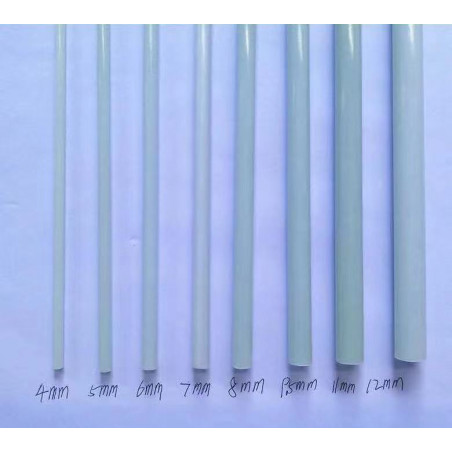  
20 of 8mm * 2300mm Fibreglass Rods
8mm * 2300mm Solid White Fibreglass Rod. 
Extremely strong, quick and easy to install. 
UV stabilised, 10 years use time.
Span 1.45m to form a perfect semi-circle, and should be spaced 1.1m–1.9m apart.
Combine with insect mesh or other meshes to stop frost damage and white moth
These rods reached the max length for Rural Delivery, so please supply an urban address, or you can pick them up from the depot with cheaper postage.
please note: the rods are not designed to be bent tighter than perfect semi-circle.
These rods can be used in a number of applications in the agriculture, viticulture, and horticulture sectors including:
Electric fence posts

Garden stakes

Vine stakes

Tree supports

Mechanical harvesting rods - used on grape pickers, berry pickers etc

Tunnel house supports/cloches.

Net supports

Cattle sticks

Field Markers
11 other products in the same category: